If you're looking for information about funeral services for my father:
Robert Pyle Lauriston, native San Franciscan, UC Berkeley class of 1947, and longtime resident of San Leandro, passed away on July 27, 2015, in Oakland, at age 93. An Office of the Dead, rosary, and funeral mass will be held at St. Albert's Priory, 5890 Birch Ct, Oakland, on Friday, August 7, at 10:30 a.m. The interment service will be at 1:00 p.m. at St. Dominic's Cemetery, Hillcrest & East 5th, Benicia.
---
(click image to enlarge)
Soon I discovered that this rock thing was true. Jerry Lee Lewis was the devil. Jesus was an architect previous to his career as a prophet. All of a sudden I found myself in love with the world, so there was only one thing that I could do, was, ding a ding dang my dang a long ling long.—Gibby Haynes
He's King Gibby. The man is a god. They're all gods, the Butthole Surfers. And anybody who worships the Surfers can be gods too.—Daniel Johnston
Mr. Dingle lives his life with one foot in his mouth, and the other—in the Twilight Zone.—Rod Serling
Since 1998, I've made my living primarily as a technical writer, doing mostly software documentation. In my previous career as a computer journalist, I wrote about computer hardware and software for publications such as CNET, PC World, and WINDOWS Magazine. I have also dabbled in restaurant reviews and food writing from time to time.
Among other past lives, I lived in Project Artaud, played keyboards for the art-rock band Light Year, reviewed concerts and records for Artbeat and (under the pseudonym Stupid Artname) Damage, played bass on Gina Arnold's first 45, typed letters for George Shultz, ran the Low Rent Gallery, recorded with the avant-garde gamelan Other Music, hosted the public access TV show Bob's Party (A Mark and Marty Production), composed songs and incidental music for the Magic Theater's production of Sin, Sex, and Cinema, worked as a production assistant on Choke Canyon and portions of The de' Medici Kitchen, and opened a restaurant.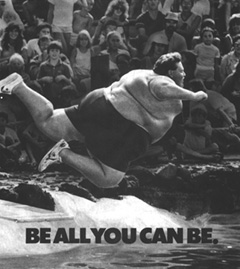 ©2015 Robert Lauriston. All rights reserved. Reproduction in whole or in part is strictly prohibited without explicit written permission.